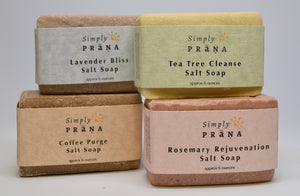 Simply Prana
Salt Soap 4 Pack
Regular price
$55.00
$0.00
Unit price
per
This set includes 4 Salt Bar Soaps: 1 Lavender Bliss, 1 Tea Tree Cleanse, 1 Rosemary Rejuvenation, 1 Coffee Purge.
Lavender Bliss Salt Bar
All natural, handmade organic cleanser with Lavender Essential Oil and Lavender Flower Buds to give you a soothing, calming, uplifting bar of soap. Lavender is known for its soothing skin healing properties and is antibacterial, antidepressant & anti-inflammatory. Contains green and violet pranas.
Tea Tree Cleanse Salt Bar
Organic Ingredients of Tea Tree, Spirulina & Lemongrass make this a power packed soap full of nutrients for the skin. Each of these ingredients also contain green prana, making this a concentrated soap of green cleansing energies. Leaves you feeling light and refreshed!
Rosemary Rejuvenation Salt Bar
Enjoy the invigorating & strengthening properties of red prana from Rosemary Essential Oil to start your day! The combination of Rosemary and Salt make this soap powerful cleansing & energizing treat! On top of that, crushed rose petals have been added to infuse the bar with emotionally uplifting energies!
Coffee Purge Salt Bar
Don't let the name scare you! This soap has amazing cleansing action! We've combined Tea Tree Essential Oil with Ground Coffee to give you a deep powerful cleanser for Life's more challenging days. Contains green and orange pranas.

Due to the nature of our handmade process, each bar is unique. Size, shape and color may vary slightly.
Each soap is approximately 6 ounces.
---