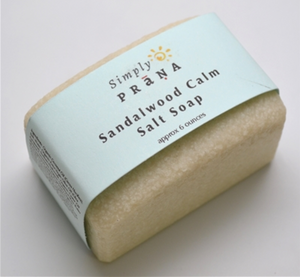 Simply Prana
Sandalwood Calm Salt Soap
Regular price
$20.00
$0.00
Unit price
per
This all natural, handmade organic cleanser contains precious organic Sandalwood & other treasured Essential Oils that have been consecrated to augment their natural healing properties. We've also added skin loving Shea Butter and a soothing chamomile herbal infusion, to name a few. This salt soap is a great way to help your energy system deal with Kundalini syndrome. Contains green, blue and violet pranas that have a calming, cooling and relaxing effect!
Ingredients: Saponified Organic Coconut Oil (Cocos Nucifera), Salt, Organic Extra Virgin Olive Oil (Olea Europaea), Organic Castor Oil (Ricinus communis), Organic Unrefined Shea Butter (Butyrospermum parkii), Proprietary Organic Essential Oil Calming Blend, Organic Vervain Powder (Verbena hastata), Organic Valerian Root Powder (Valeriana officinalis), Colloidal Oatmeal (Avena sativa), Indigo Powder (Baphicacanthus cusia) Buttermilk Powder.
Due to the nature of our handmade process, each bar is unique. Size, shape and color may vary slightly.

Each soap is approximately 6 ounces.
---